Fullerton Room, Ministries Center
Now that renovations have been completed in the Ministries Center, we are pleased to announce that Converse Library is officially open to patrons. You are invited to visit the renovated space, browse our longstanding collection and check out books using our new digital cataloguing system.
Converse Library has gone digital!
Our catalogue is now available online so that you can browse our collection, create your own patron login, and even reserve books from the comfort of your home. You can find the Converse Library collection here.
Converse in the Court
Find this bookshelf located in the Court on the lower level of the Ministries Center with a new display each month. Feel free to browse these featured books and even check one out by using our online catalogue! For more information, make a visit to Converse Library or reach out to Kat at This email address is being protected from spambots. You need JavaScript enabled to view it..
Volunteering in the Library
Converse Library is always looking for volunteers to assist in reshelving books and other general library tasks. If you're interested in helping with this or if you have any other library-related questions, contact This email address is being protected from spambots. You need JavaScript enabled to view it..
Converse Library Cards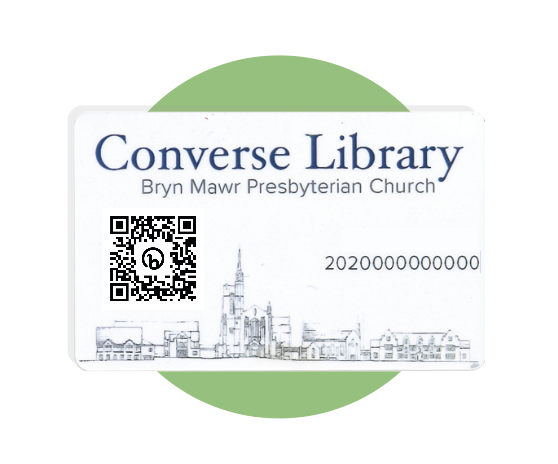 Looking for an easy way to check out books? Converse Library now prints and distributes personalized library cards! On most Sunday mornings in the summer, you can find Converse Library volunteers in the Atrium following worship who will show you how to search the catalog online and create your own card so you may check books out with ease. Need a card but aren't around during the summer?
Contact This email address is being protected from spambots. You need JavaScript enabled to view it. to place your order.