BMPC CELEBRATES 150TH ANNIVERSARY
On January 13, 1873, the Bryn Mawr Presbyterian Church was founded. Three men and 13 women gathered together in Temperance Hall on Lancaster Pike for the purpose of founding a Reformed congregation in the quickly-growing borough. We soon purchased property from the Pennsylvania Railroad and built a small greenstone Chapel the following year, near the site of our current Sanctuary.
All are invited to join us in commemorating our sesquicentennial the weekend of October 14-15. Details about our 150th anniversary events are listed below. We look forward to seeing you as we celebrate our legacy and look toward the future!

Church Birthday Party
Saturday, October 14, 11:00 a.m. to 1:00 p.m., Ed. Bldg. Lawn. Celebrate the church's birthday with cake, fun games for children and families, and fellowship!
Celebration of Former Pastors and Staff
Saturday, October 14, 5:00 to 6:00 p.m., Ministries Center Court. This informal open house will honor former BMPC clergy and staff.
150th Anniversary Dinner
Saturday, October 14, 6:00 p.m., Congregational Hall. This dinner will be RSVP only. RSVP online or at the registration table in the Atrium after worship by Mon., Oct. 2. Tickets are $20 per person. Featuring the premiere of the BMPC anniversary video.
Organ Concert
Saturday, October 14, 7:30 p.m., Sanctuary. Philippe Lefebvre, principal organist of Notre Dame Cathedral, Paris, will perform.
Sunday Worship Service
Sunday, October 15, 10:00 a.m., Sanctuary. This service will feature music by the Sanctuary Choir, and a sermon by the Rev. Dr. Agnes W. Norfleet.
---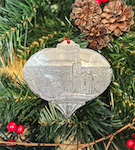 150th Christmas Ornament. Join in celebrating BMPC's 150th Anniversary by purchasing this newly-created Christmas ornament featuring our renovated church property. Designed and crafted by Wendell August Forge, this ornament is a beautiful way to celebrate the past and the future of our congregation. Ornaments will be on sale for $20 each on Sundays, Sept. 10 and Oct. 15 following worship.
BMPC at 150 Exhibit: Faithful Engagement in a Changing World
Beginning on Sunday, September 10 through Sunday, October 29, the BMPC Gallery will feature an exhibit celebrating our 150th anniversary by highlighting seasons of faithfulness and change in our church's history.
Though not meant to be an exhaustive history of the church, this display offers glimpses of the church's story through the changing realities of society and culture. From our humble beginnings when 13 women and three men gathered to charter our congregation, through times of growth and expanding ministries, to the navigation of turbulent years in the struggle for civil rights and equality, the church has continued to lean into what it means to be faithful to God's call in Jesus Christ.